UKG hindi mostly focuses on identifying, reading, and writing hindi varnamala ( alphabets), creating 2 letter, 3 letter and 4 letter words.  we have created hindi worksheets for ukg cbse in pdf but same covers all the topics of other boards like icse, cambridge and state boards too.
Hindi is the mother tongue and the most popular language in India. That is one of the major reasons to teach this language to your children. Hindi grammar and vocabulary should be studied first by those who are starting to learn the language. Once they have mastered the foundational skills students can move on to prose and poetries. Hindi is less complex for young children to learn because, unlike English, Hindi words are pronounced precisely as they are written. For instance, in English ph and f, both are pronounced as /F/ whereas in Hindi the only letter pronounced as /F/ is फ.
In Hindi-speaking regions of India, parents can converse with their children at home to teach them Hindi. It is simpler for a child to acquire a language if they are familiar with the tone and style of speech. Hindi worksheet for kids is a fun way to learn the Hindi language. This worksheet includes a variety of Hindi words and phrases. The worksheet is designed for UKG children. It is a great way to learn and improve their Hindi vocabulary and language skills in general.
The primary goal of teaching Hindi in UKG classes is to get children acquainted with the language. They focus mainly on identifying, reading, and writing of Hindi alphabet (varnamala) and word construction of 2-letter, 3-letter, and 4-letter words. Hindi is a difficult language to learn, but with practice, children will be able to speak it fluently in no time.
If you're looking for a fun way to learn Hindi, check out our Hindi worksheet for kids! This worksheet is full of activities to help your child learn the basics of the language. If you're not sure where to start, we recommend starting with the alphabet (varnamala). Children can begin learning word formation once they have learned the alphabet by starting with two-letter words, going on to three-letter words, and so forth.
Download Free Hindi Worksheets for UKG
For UKG students, we provide a fun set of Hindi worksheets based on the most recent CBSE curriculum, which is similar to those of other boards and it encompasses the key topics of the subject.
Premium Printable Hindi Worksheets for Upper KG
Our premium collection of printable and downloadable worksheets contains 20+ activities based on the UKG's latest curriculum. These worksheets are available for one year with no restrictions on downloads. Help your child master this language with ease through our fun-induced worksheets.
Hindi Varnamala – 1 Guide
Hindi Counting – 1 Guide
2 Letter words – 10 Worksheets
3 Letter words – 5 Worksheets
4 Letter words – 6 Worksheets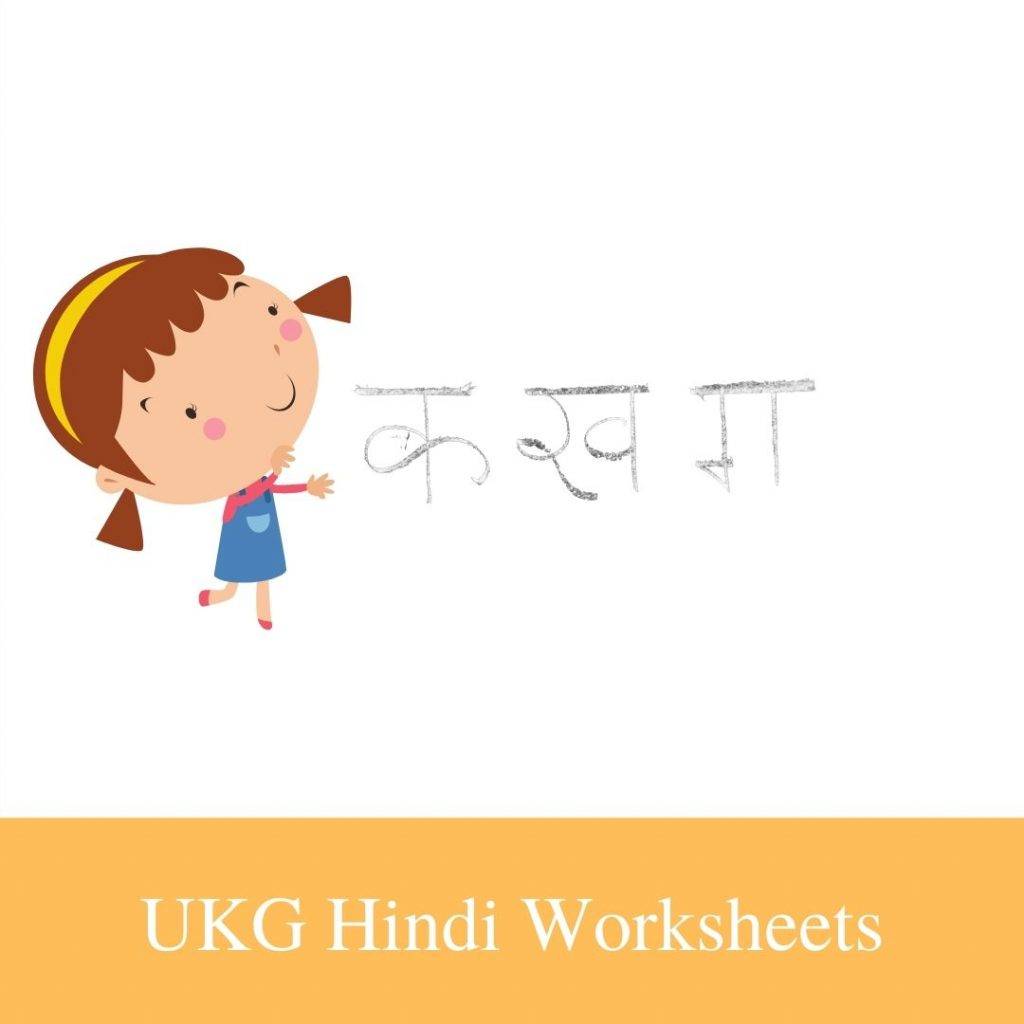 FAQ:
Are UKG Hindi worksheets free to download?
We have both the premium and free version of worksheets. Both can be downloaded in printable format.
What topics are covered in Hindi worksheets for UKG?
Every worksheet is based on the most recent UKG curriculum. Hindi alphabets, counting, and word creation with 2-letter, 3-letter, and 4-letter words are the topics covered.
Are these worksheets an effective tool for learning Hindi?
Yes, of course. Our worksheets are made to help children improve their language skills which enables them to comprehend the upcoming Hindi language concepts with ease.
We also have curated worksheets for other subjects. Checkout out our range of UKG worksheets for other subjects.