Here you can download UKG worksheets for all subjects for free in pdf format. We have made these HKG worksheets based on latest kindergarten curriculum.
We have all heard the cliché phrase, "practice makes perfect". This is due to the fact that anyone can learn anything with enough practice, including acquiring new skills. Children are more interested in playing and having fun than they are in learning, making it difficult to teach them particular subjects. But not to worry, we have got you covered.
For UKG students, we at mycollegebag have offered a variety of downloadable worksheets based on their course requirements. Worksheets are a great way to teach children. It allows them to study while having fun, so children will learn without feeling like they are actually studying. Through engaging and exciting exercises, our UKG Worksheets help kids master a range of subjects. We have everything, from EVS (environmental studies) worksheets that explain seasons and human body parts to Math worksheets that demonstrate how to count backwards.
Students in UKG classes are taught the next step of what they have already learned in LKG. With the help of our worksheets, kids may reinforce what they learned in the previous classes and comprehend new concepts. These worksheets are entertaining and educational, and they can serve as an effective assessment tool for the UKG curriculum. The worksheets help students determine their areas of weakness by assessing the foundational subjects covered in the UKG curriculum.
Our printable worksheets are intended to provide a platform for students to gain more insights about the various subjects through active practice. The primary goal of our worksheets is to improve students' academic performance in all UKG courses and also strive to make this learning process more entertaining. 
UKG worksheets for all subjects
All our activity sheets are based on latest UKG syllabus. We have printable UKG worksheets for all the subjects, which you can download for free in PDF.
Premium range range of CBSE & ICSE UKG Workbooks
Our experienced kindergarten teachers have curated the best range of premium workbooks for UKG kids, which covers all the topics in detail and these are available for download at a very nominal price.
UKG EVS Worksheets -Premium
Premium printable UKG EVS and general awareness workbook with 40+ activity sheets. Tasks include identification, colouring, match the columns, and word completion.
Topics and Number of Activity Sheets:
1. About You?- 1 Worksheet
2. About your family?- 2 Worksheets
3. Parts of Body- 5 Worksheets
4. Sense Organs- 4 Worksheets
5. My House- 4 Worksheets
6. Seasons- 3 Worksheets
7. My School- 4 Worksheets
8. Transportation Systems- 5 Worksheets
9. Animal Kingdom- 5 Worksheets
10. Animals and their young ones- 3 Worksheets
11. Sound of Animals- 3 Worksheets
UKG Hindi Worksheets- Premium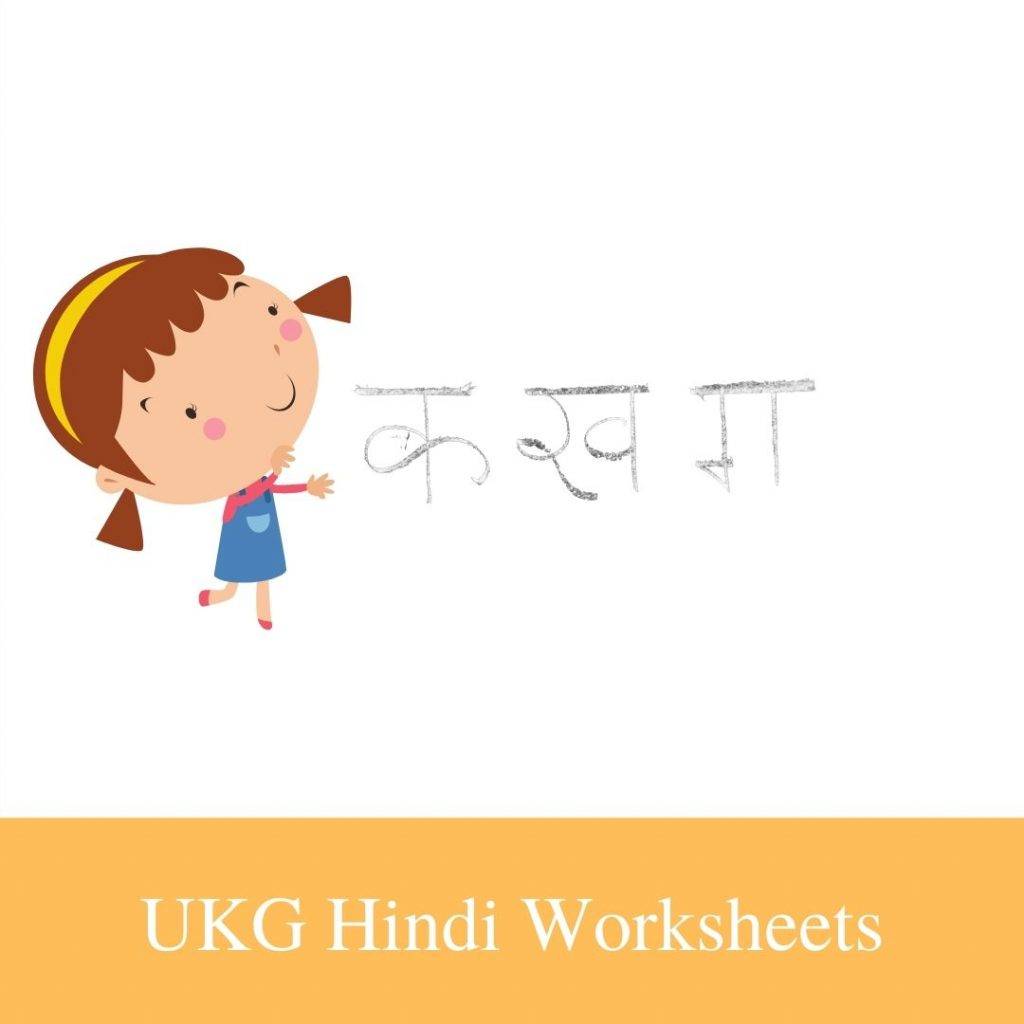 This is a premium printable workbook and contains 20+ activities based on latest curriculum, You can download unlimited copies of this worksheet for a year.
Topics covered in the worksheet:
Hindi Varnamala – 1 Guide
Hindi Counting – 1 Guide
2 Letter words – 10 Worksheets
3 Letter words – 5 Worksheets
4 Letter words – 6 Worksheets
UKG English Worksheets- Premium
Premium printable UKG English workbook with 10+ activity sheets. Tasks include missing letters, articles and usage vowels
Topics and Number of Activity Sheets:
Alphabets – 1 Guide
Missing Letters – 1 Worksheet
Vowels – 3 Worksheets
Articles – 3 Worksheets
One & Many – 2 Worksheets
Rhyming Words – 1 Worksheet
1 Colouring Sheet
1 Short Story
UKG Maths Worksheets- Premium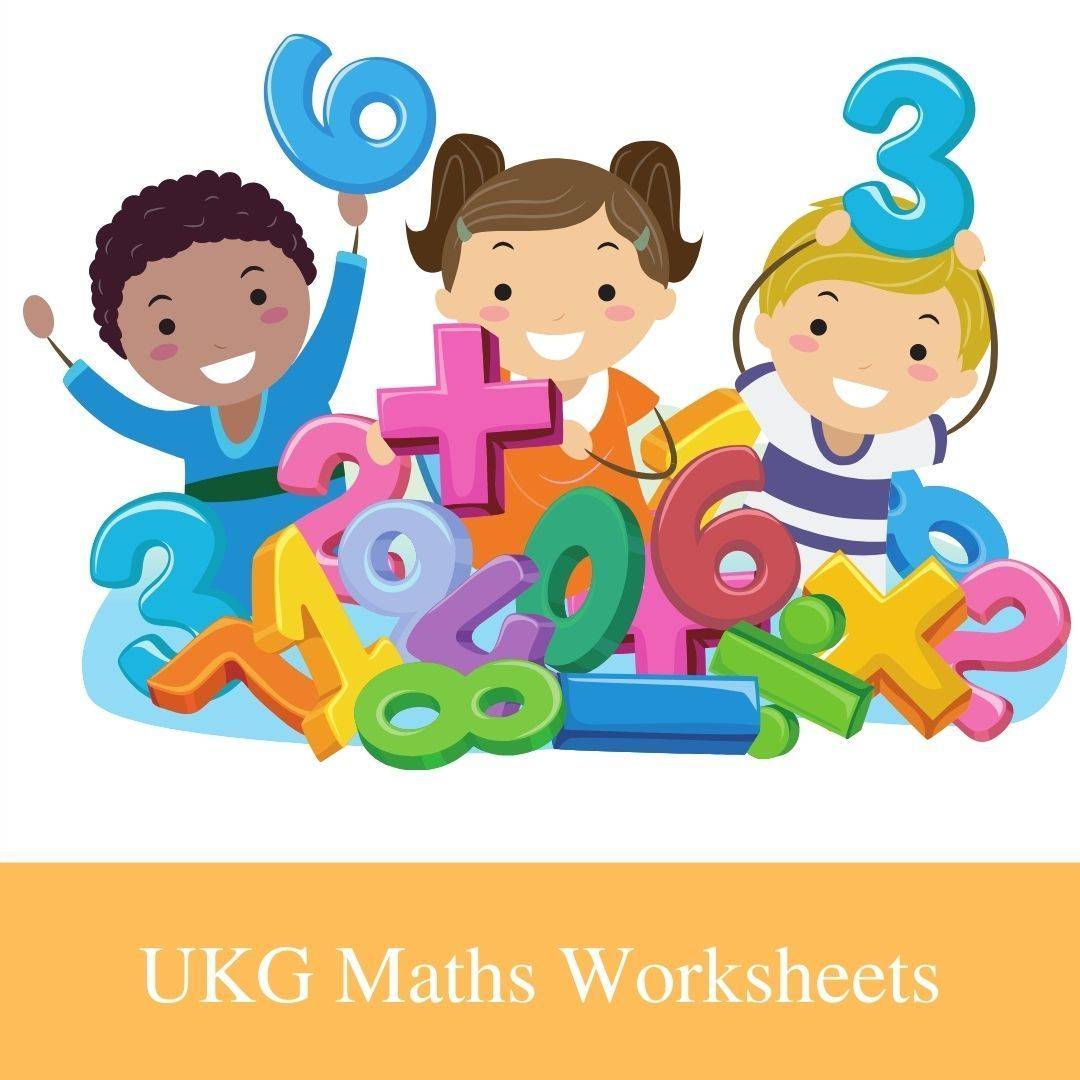 Premium printable UKG maths workbook with 25+ activity sheets. Tasks include shapes, numbers, comparison, quantity concepts and colours.
Topics and Number of Activity Sheets:
Learn concepts (Same, In, Out, More, Less, Right, Left)- 4 Worksheets
Counting- 4 Worksheets
Backward Counting- 3 Worksheets
Addition – 2 Worksheets
Shapes – 3 Worksheets
Colouring – 3 Sheets
Subtraction – 3 Worksheets
Our Currencies – 2 Worksheets
Compare – 2 Worksheets
Download UKG worksheets for free in PDF
Common questions related to UKG / HKG worksheets
Where can I download UKG worksheets?
We have curated the best range of UKG activity sheets for you. To access, simply click on the subject and then select the topic to download the worksheets.
Will UKG worksheets enough to teach upper kindergarten kids?
Yes, our upper kindergarten worksheets comprise many interactive activities that would help your child learn the curriculum with fun and ease. 
Are UKG worksheets free to download?
We offer a wide selection of free and premium worksheets for each subject. We recommend starting with our free activity series and then trying our paid option. We can assure your child will love both. 
What are the benefits of solving worksheets for UKG kids?
These worksheets cover several interesting foundational topics that would be very tough and boring if taught through theory. Interactive activities like tracing and colouring develop curiosity and simplify your child's learning process. In addition to that, it allows children to familiarise themselves with a formal structure of question and answer.
Which UKG subject worksheets are available?
We offer one of the finest collections of worksheets on the following subjects
– Maths
– EVS (Environmental Studies) and General Awareness
– Hindi
– English